Geplaatst op
Door Faruk Ljimani
Geplaatst in armchair, atmosphere, barcelona, blog, bsab, candle, candle holder, candles, card, claudi, coffee table, cosiness, cushion, diffuser, fur, home perfume, interior, interior decoration., leather, living magazine, must-have home accessories, plaid, raven, sofa, taupe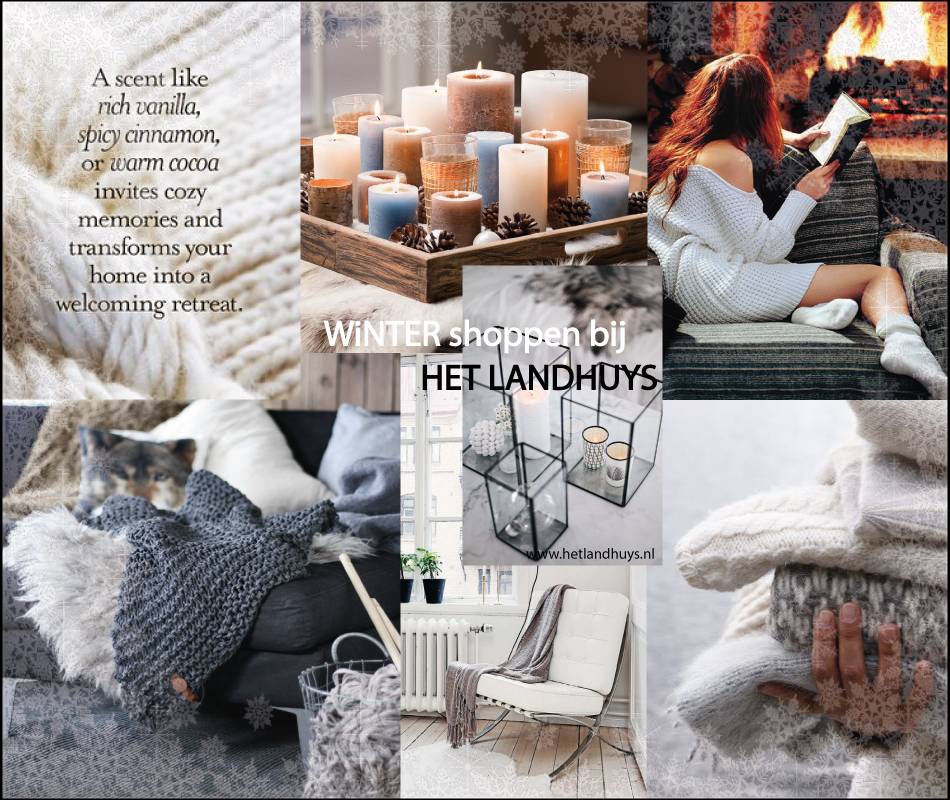 It is soon dark, cold and wet , it is winter.An perfect opportunity for more atmosphere and experience in your home. But how do you do this? What do you need ? Find out how you are going to beat the cold winter days with these winter must-haves and tips & tricks of the interior consultant.
Hello winter...Defeat the cold winter days with this home accessories Winter Must Haves 

It 's cold , windy and often dark soon . Here we are not happy , but this cold and dark days are a perfect solution for a lot of atmosphere at home. These make the cold winter weather in your home and portable winter is such a magical time . I give you some tips and tricks to make your interior winter ready to get through the cold winter.

How do I create atmosphere / coziness / warmth in my interior?

Your interior is very personal and atmosphere is also a personal experience. But we go there just from the overall picture that you might be able to apply your interior. Create atmosphere has to do with the experience of a variety of experiences, involving detail. In the collage you see an impression of a winter decor / atmosphere here is also considering detail, such as material, color, warmth and experience. All of them together takes a certain feeling upward. To apply this in practice involves creating warm cozy little spots in your interior. As on the bench a colorful plaid, with lots of pillows (fur).

The materials and colors that the bank will give a totally different look. The material fur plays a big role in this. The soft look of fur, this contributes to the overall picture and you get the feeling you want to stroke it or want to crawl under. So this gives a nice feeling in your interior and thus a aangenaamde place to sit. The table plays an important role here do a pretty widely with candles and make it playful, you can decorate them with acorns and small / tall vases or bottles between doing. This assembly will provide a nice atmosphere completely with your bank. Obviously here is a matching (deep pile) carpet also added value.

What materials and / or colors contribute to a cozy / charming decor?

Material and color application is extremely important when it comes to creating a certain atmosphere. In this case we want to create warmth and coziness with a natural look. To create a warm look is the basis to make use of warm natural tones. This will greatly contribute to give your interior a warm glow. My advice is to opt for a natural tone. This provides a solid foundation on which you can join a lot, you might want to change the meantime of home accessories. A neutral and warm color could for example taupe. Taupe can be combined with lots and give your interior a warm atmosphere. You do not exactly your entire room or house paint this, one wall is often enough.

Material terms of use I would choose for a lot of natural materials or a fine imitation of a natural material such as faux fur. Fur is indispensable when it comes to creating warm cozy atmosphere. A good example is Raven Raven fur fur plaid with matching decorative pillows. By the look of fur throws and cushions your interior will soon give a warm and cozy atmosphere. It is also important to also pay attention to a color, choose shades that match. So especially warm tones and no cold materials. In addition, wood and leather also adds to the total picture. A nice example is the Raven Tea Light Holders with leather covers. These give your interior atmosphere and create heat.

What else do I need for a complete picture?

Okay , you now have everything . Yet something is missing . Can you guess what it is? Odor. Your interior , you can easily add an extra dimension by applying a BSAB house perfume. By circulating a matching BSAB home fragrance your interior the look will become one where you and your guests will feel at home. BSAB scents are natural fragrances without added chemicals and created with love for nature and people. Watch the BSAB huispafum collection.

What are the winter must haves for a stylish interior?
These are the winter must haves for a stylish interior is a delight to come home . For a true ' home sweet home ' feeling.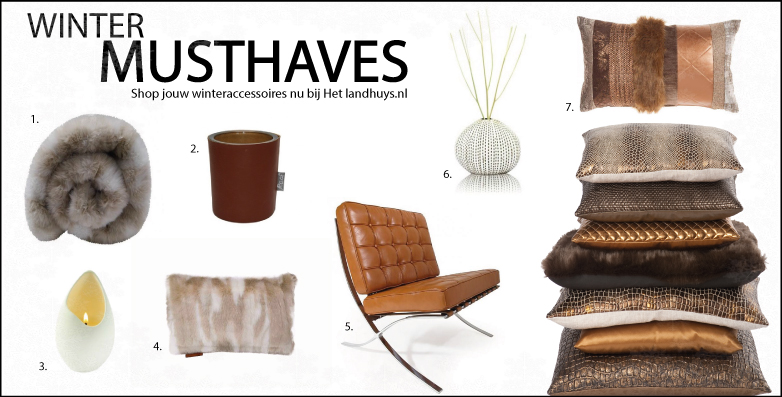 1. Raven fur plaid - Raven fur abosulte is a must have for the winter. Not only keeps you warm but also creates this atmosphere and is very soft.

2. waxinelichthoude leather Raven - Raven Tea Light Holders give the natural look your interior a warm atmosphere and tranquility. The structure of the leather makes it playful but not too obvious. Perfect balance is struck. Raven Tea Light Holders are available in different colors, sizes and materials (also with fur.

3. BSAB chinese porcelain candle - Made by hand with pure products and a lot of love and love of nature, this jewel is a must have for an atmospheric interior. Also good for the bathroom. Available in different scents that will make the whole experience in your home.

4. Raven fur cushion - With Raven fur cushion you can relax on the couch and enjoy the delicious soft embrace of this throw pillow. This must have contributes to a beautiful wintry whole. Also available in 50x50.

5. chiar Barcelona - The Barcelona chair lends itself well to the timeless design to create a beautiful atmosphere cozy corner here. Take for example here a Raven on a fur plaid cushions there and put this example in the window or another corner. So you have put down a pretty picture in no time, which is perfect for example, read your favorite book. The Barcelona chair is available in various colors and fits into any home decor.

6. BSAB ceramic diffuser - Handmade ceramic diffuser will give your interior an extra dimension because of the natural and rich fragrances of Mother Nature. Smell is an essential part of the whole. Available in a variety of home fragrances. 7. Claudi cushions - Claudi cushions are hand made to order from rich fabrics for its comfortable feel in your interior. The fabrics used are from brands like Carlucci and Chivasso. Abosulte a must have for a winter look. Check out the new collection.

Do you have any nice winter tips to get through the cold winter days? Share it below.