Hip flower pots from Raaf
Hip Raven plant pots or tealight holders for a unique look in your interior. Plant pots and tea lights available in various sizes and colors. Free Shipping.
Hip flower pots from Raaf
Flower pots from Raven Mix & Match
Benefits Raven flower pots:
- Hip design
- Mix & Match
- Sustainable
Raven flowerpot for inside your living room or bedroom. The flower pots of Raaf have multiple functions. You can use the flower pots as a tealight holder, vase or as a flowerpot. The flower pots are available in different unique designs and sizes.
Most Raven flower pots are available in sizes 8x9 cm, 12x12 cm and 14x14 cm.The inside of the Raven flowerpot consists of a glass flower pot. This is transparent and the thickness of the glass is 1 cm. Ideal for combining for a playful effect.
Mix & Match | Flower pots from Raaf
The flower pots of Raven are super nice to mix, not only in size but also in material. This gives it a beautiful look as a whole. In material there is a lot of choice, the covers of the flower pots are made of fabric, artificial leather or real leather. The Raven flowerpot design cover can easily be changed.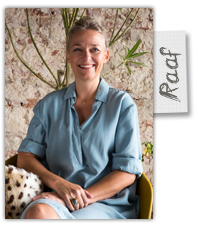 Raven designer / owner:
Mirjam van den Dungen
The trendy home accessories from Raaf, as these tea lights / flower pots are designed by the owner and designer Mirjam van den Dungen.
After first being a resident resident, she started with Raven Cushions in 2006 and made it a success in a short time.
Mirjam has a predilection for colors and fabrics. She loves to surround herself with beautiful things. She gets her inspiration from life itself: a beautiful building, a creatively laid out board in a restaurant, colors in nature, an inviting showcase.
Mirjam wants to let others enjoy the rich feeling that beautiful things can give you. Her passion for beauty and quality is visible and tangible in every cushion.